TD Ameritrade is not a direct access broker and therefore direct access trading in not supported at TD. However, TD accounts can have access to 2 direct routing options through DAS Trader for faster executions.
In order to get faster executions, your account MUST have the ability to send orders to the direct routing destinations: ARCA or INET via DAS Trader to TD Ameritrade. TD accounts must first ensure their account has the approval to send to direct routes by logging into their account portal at TD and enabling this ability.
To enable your account for direct routing, please do the following steps:
Go to Client Services > My Profile and select General.
In the Elections & routing section of this page, click Edit next to Direct routing.
Review the Direct Routing agreement. Acknowledge that you have read and understand the agreement and select Submit.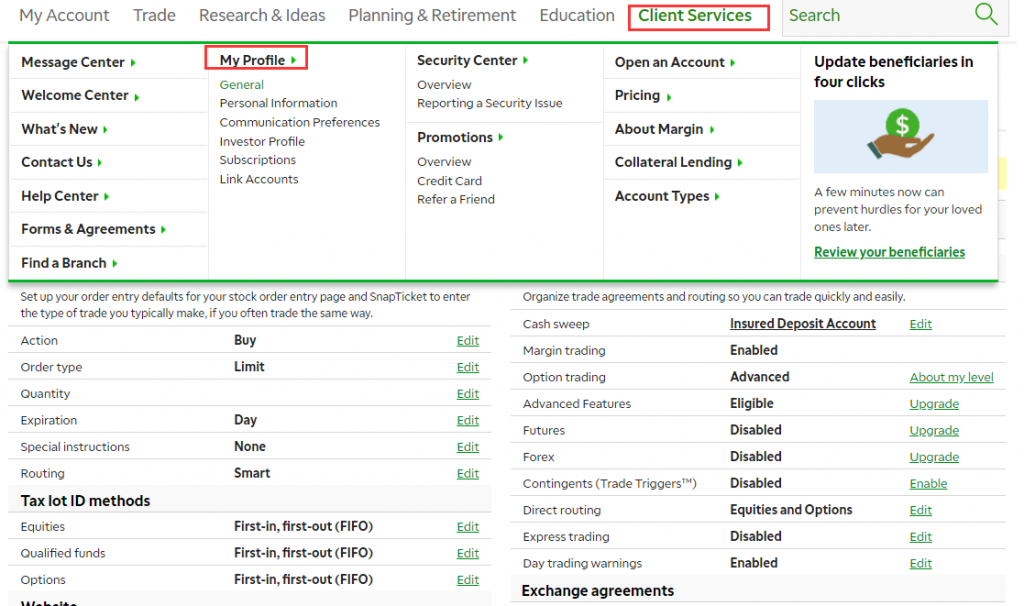 Note:  If you've gone through the process and your Direct Routing says Options (instead of Equities and Options), that means you have Advanced Features Enabled.  Direct Routing for equities is not allowed when Advanced Features is enabled.  If you wish to proceed with Direct Routing for equities you will need to contact TD Ameritrade to have Advanced Features disabled.
If your account is a Thinkorswim (TOS) legacy account prior to the TD Ameritrade acquisition, then you need to contact TD at 866-839-1100 directly to have it enabled manually. Please ask to speak with their trading desk and front facing support team.
To learn more about direct access vs. direct routing, please visit this article.